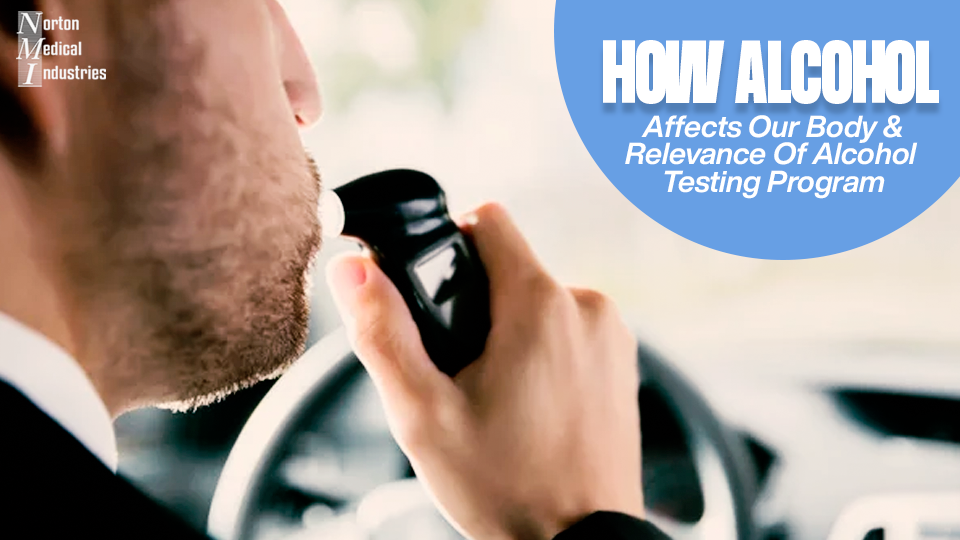 Do you Drink? We all have been a part of this conversation at some point. With the number of bars, pubs, and cafés, enjoying a drink or two has become common. People know what they want to drink with the options available in the market and exciting cocktails.
Alcohol has been glorified as a means of having fun. Movies, TV shows, and even social media have played a significant role in making Alcohol popular. We all wait for the weekends to enjoy drinks with our friends. But regular consumption might turn into an addiction that has some dark side.  
With the rise in driving under influence cases, alcohol testing plays a significant role in keeping the roads safe. And it is not only restricted to driving; even flight crew members are required to undergo an Alcohol Test program.
Alcohol Test programs are crucial because Alcohol affects an individual's physical and mental health by causing numbness. Hence drug and alcohol testing offered by professionals like Norton Medical Industries becomes more vital to prevent accidents and save lives.
Short & Long Terms effects Of Alcohol:
Drinking Alcohol at a faster rate can result in slowing brain activity, including behavioral changes. Some of the common short-term effects of Alcohol on the human body are poor concentration, altered speech, impaired vision, hazy thinking, and so forth.
Binge drinking can raise a person's blood alcohol concentration to 0.08 or higher. Long-term binge drinking can also harm a person's health.
Alcohol addiction can be related to long-term effects. It is one of the significant social problems and causes blackouts, loss of memory, affects the brain, and so forth.
How Long Alcohol Stay In The Body:
Well, Alcohol depends on a lot of factors like age, Alcohol consumed, ethnicity, body fat, food consumption, medication, and so forth. As per the Department of Transportation, in most states, a .08 alcohol level is considered to be under the influence, and the worker is not allowed to cover the job.
Alcohol Test Program Guidelines And Relevance:
Drug and Alcohol Test programs offered by professionals like Norton Medical Industries follow the United States Department Of Transportation standards. These Alcohol Test Programs are conducted using DOT approved Breathalyzer and reviewed by a certified medical review officer.
These tests are conducted to prevent accidents and save lives. Professional Alcohol testing programs by Norton Medical Industries offer quick and accurate reports to leading clients. With accurate testing across a wide range of industries, they are committed to prohibiting workers from covering their job under the influence of drugs or Alcohol. So, if you are looking for complete testing solutions for your organization, connect with Norton Medical Industries.