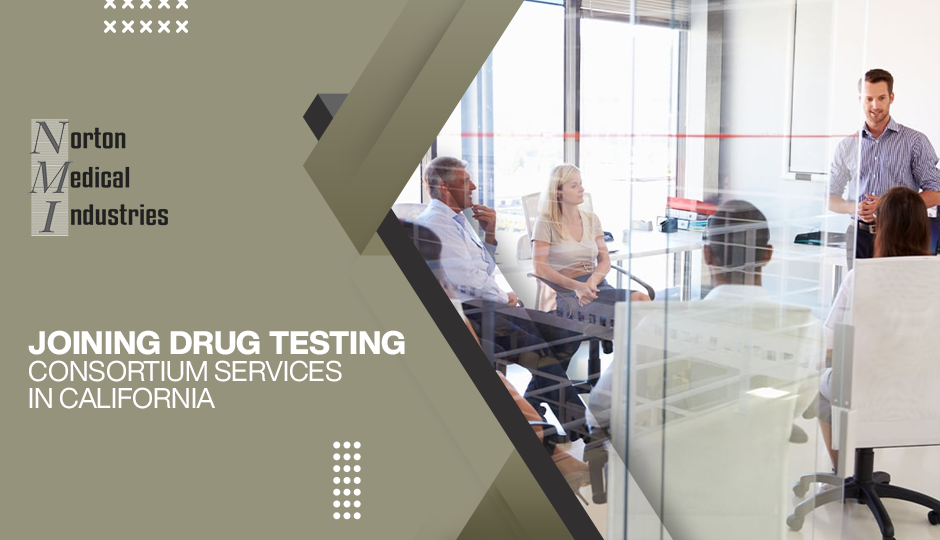 A drug testing Consortium Service is to allow small companies to participate in a full drug testing program for their employees with low cost.
Norton Medical has three DOT Consortiums
Norton Medical FAA drug testing consortium
The FAA Drug Testing Consortium includes all flight crew, and aviation mechanics who repair air craft, or aircraft parts.
Norton Medical FMCSA drug and alcohol testing consortium
The FMCSA Drug Testing Consortium includes drivers of trucks weighing more than 26,000 pounds, or buses, such as school buses with more than 16 passengers or vehicles that carry a hazardous placard.
Norton Medical cPUC drug and alcohol testing consortium
The cPUC is the California Public Utility Commission which regulates vans and limousines that carry passengers in California.
Employers join a drug testing consortium, receive a company policy which complies with their regulatory agency, FAA, FMCSA or CPUC. The companies workers are entered into a large pool of covered workers and are subject to selection according to the requirements of their regulatory agency.
FAA Drug Testing Consortium 25% random alcohol
FMCSA Drug Testing Consortium 50% random drug testing 10% random alcohol
CPUC Drug Testing Consortium 50% random drug testing 10% random alcohol. The CPUC drug testing consortium follows the regulations of the FMCSA.
Workers in the Drug Testing Consortium may be selected or not but they are in a random pool, but workers in the drug testing Consortium are all at risk of being selected. If they are selected the company pays for the random drug or alcohol test. If no one is selected no worker must go, because they have fulfilled their requirements by being in the random pool.
FAA Pre-Employment Drug Test
The FAA like all departments of transportation modes requires a negative FAA Pre-Employment Drug Test result to return before the covered worker can be placed in their safety sensitive position. The FAA Pre-Employment test is required for pilots, flight crew, and mechanics as well as workers who repair aviation parts such as hydraulics, and electronics and the supervisors of these workers.
In addition to the FAA Pre-Employment Test, once workers are in the pool they are subject to random testing throughout the year.
If a worker fails a FAA Pre-Employment test and wishes to remain in the aviation industry they must undergo the return to duty process. That is to see and be evaluated by a substance abuse professional, get a Return to Duty Drug Test. Unlike the initial FAA Pre-Employment Drug Test, the Return to Duty Drug Test must be observed where a same sex person watches the urine leave the person body and enter the container. The FAA has a Barr. Workers who have two positive drug tests, or two positive alcohol tests are Barred from the Aviation Industry by the FAA.
FAA's alcohol or drug use policy
Every FAA regulated company must have a FAA Drug and Alcohol Policy State states exactly how the company is going to conduct its FAA Drug and Alcohol Program. The FAA requires that the FAA Drug and Alcohol Policy requires the covered worker to be taken off the covered job. The FAA does not require termination or any other consequence. The employer must also refer the worker who has violated the FAA Drug and Alcohol Policy to see a substance abuse professional. The FAA regulated company does not have to pay for the services of the substance abuse professional, but must provide the worker at least two names of persons who can assist with the return to duty process.
Alcohol Breath Testing Services in California
Alcohol Breath Testing Services provide Breath Testing using devices approved by the United States Government as evidential
Alcohol Breath Testing is a requirement for companies regulated by the United States Department of Transportation, including FAA, FMCSA, FTA, FRA, and PHMSA.
A company can buy its own breath analysis machine and train the personnel who operate the machine, but most companies use an Alcohol Breath Testing Service to provide Breath Alcohol Testing. The Alcohol Breath Testing machines have been calibrated at the factory and must be recalibrated by the manufacturer every year. Every month the Alcohol Breath Testing Device must be calibrated with a known alcohol control. These control tests must be logged monthly on a log sheet for audit by a DOT inspector. Every positive alcohol breath test is repeated after 15 minutes. If the second Alcohol Breath Test reconfirms, the test is reported as positive and the worker must be taken off duty. After every positive alcohol test again a breath test using a known control alcohol test is performed.