Drug testing in the workplace has been around for decades and is used in different industries. The reason why employers drug test job applicants or current employees is SAFETY. Safety is the biggest reason to test people who are at risk of injury to themselves or others.  People who drive a vehicle or work in a safety-sensitive position.   Drug testing is required in the United States military, many law enforcement agencies test their officers and private companies drug test employees all to discourage the use of drugs in the workplace.  The purpose of drug testing is to discourage drug use, thus reducing accidents.  Because people know they are in a drug-testing program that is required by their work they are discouraged from the use of drugs.   
This guide explores the different types of drug tests conducted in the workplace and how you as the employer should prepare and set up drug-testing programs in a disciplined and structured approach to having an effective program.  
 Start with a written policy,  a policy that applies to all workers equally.  This policy is a tool and a guide for you to follow.  It states who is covered under the policy, what drugs will be tested for, and how often testing will occur.  The policy is a tool to educate your workers that your company is serious about safety, their safety, and that you are going to the expense of making the workplace as safe as you can.  You can give your workers a copy of the policy and sign that they have received it. 
Using the US Government Department of Transportation Anti–Drug Program as an example is a good model to follow.  Positive rates for drug use and accidents have fallen dramatically.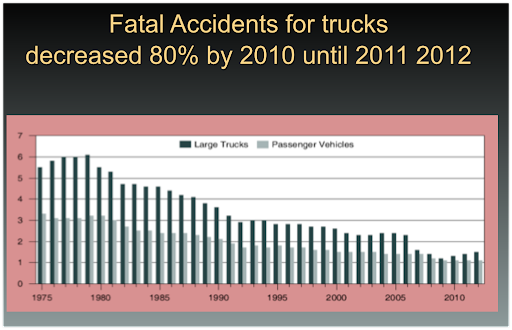 Decrease in truck accidents as measured by the death of truck drivers.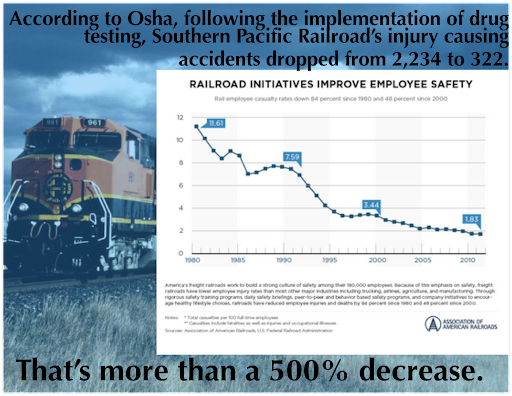 Which

Drugs Do We Usually Test For?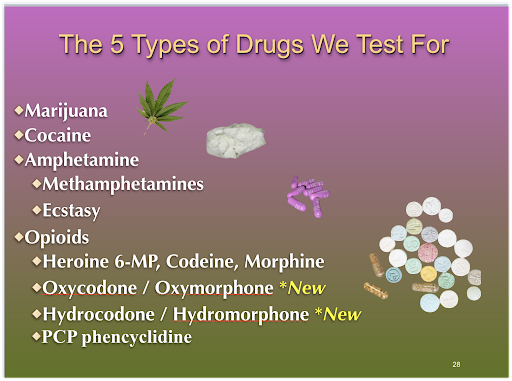 The workers donate samples of urine or saliva for drug testing.  Saliva has been accepted by the US Department of Transportation as a valid body fluid for a drug test.  Saliva is available, doesn't need a bathroom for collection.  The collection is so easy that companies can have a person trained to do the observed collection right in their offices.   
Drugs for Drug Testing
Marijuana is a substance that affects awareness, focus,  coordination, and thus safety.  Twenty-five percent of fatal accidents show the driver in the fatal accidents had marijuana in their body fluids.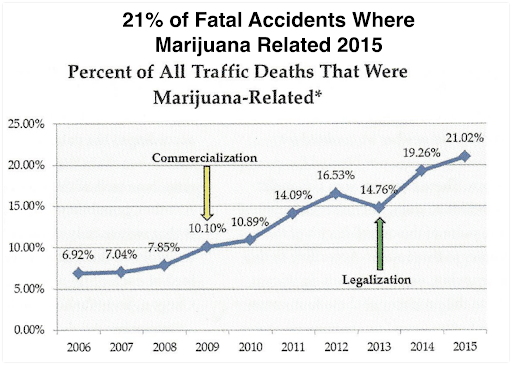 Cocaine affects attention too.  A person is too alert, pays too much attention, and may not see or respond to an emergent situation properly. 
Amphetamines and Methamphetamines have similar effects as cocaine  
Opioids have a calming effect.  The make a person relax  The person may relax so much they go to sleep.  And they may sleep so deeply they do not breathe.  
When do we test for drugs in our drug program?
Pre-Employment Drug Test.  At hire.  A pre-employment drug test 
Random Drug Test or Alcohol Test.  Testing the workers  throughout the work year 
For Cause Drug Test or Alcohol Test   If a supervisor who has been trained can identify and can articulate in writing behavior that may be caused by drug use. 
Post-Accident Drug or Alcohol Test.  If there has been an accident significant in the eyes of the company that may have been caused by Drugs or Alcohol.   Then we should do a Post-Accident Drug Test for Drugs and a Breath Alcohol test for alcohol.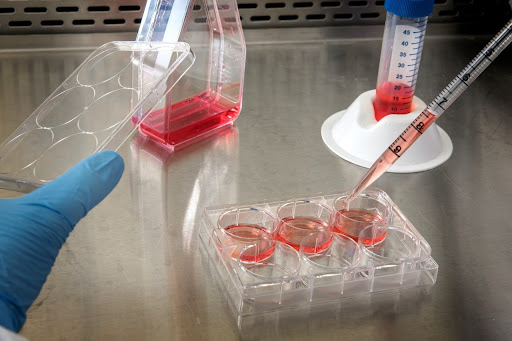 Drug tests come in two parts: screening and confirmatory tests. The screening test looks for traces of drugs in the body, while the confirmatory test uses techniques like gas chromatography-mass spectrometry to take a chemical fingerprint of the atoms that make up the drug and this test has no equal for accuracy and is evidential in a court of law. 
Why Employers Use Drug Tests in Workplaces

 
Drug and alcohol tests are used in workplaces for safety. The following are why employers may conduct drug & alcohol tests in the workplace.  
Drug tests help ensure that employees are not under the influence of drugs or alcohol, which seriously affect

cognitive function

and have adverse effects on their work performance. 

 

 
Employers can identify substance abusers to take appropriate action before it becomes a bigger problem. 

 

The presence of a random drug testing program discourages the use of drugs because a worker can be asked to provide a sample at any time.

 

Drug tests are also used to prevent accidents through timely detection of substance abuse that can lead to accidents or to fatalities at work sites.

 

Statistics show that about

9% of employees

struggle with substance abuse. Hence, employers also use drug tests to screen employees with substance abuse problems as part of their hiring process. 

 

 

Employers are required to conduct these tests to comply with state regulations.

 
What is the incidence of Drug use in the

United States

?
Twenty-Five Percent of Americans over the age of 12 have used Drugs last month.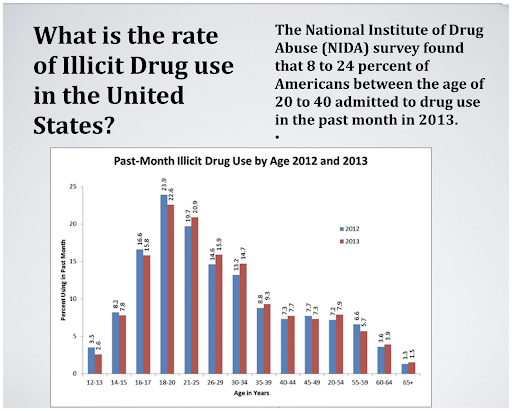 Which Substances Do Drug Tests

Detect

?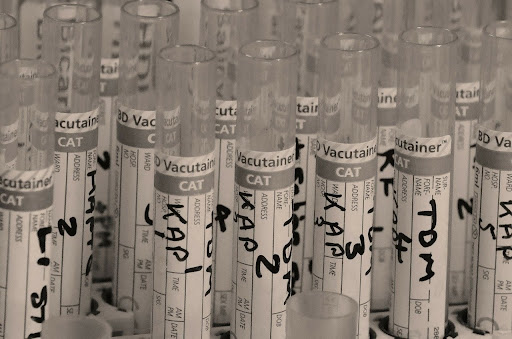 Drug tests in the workplace will generally look for the following substances.  
DOT  US Department of Transportation Required  
Opioids Including codeine, morphine 

 heroin, oxycodone, hydrocodone

 

Prescription drugs (oxycodone, hydrocodone fentanyl heroine

 

THC, Marijuana 

 

Cocaine/crack

  

 

Amphetamines, Methamphetamine, ecstasy, methadone, speed

  

 

Phencyclidine (PCP)

 

 
Companies not regulated by the United States Department of Transportation may test for these drugs also.   
Benzodiazepines

  

 

Barbiturates 

 

Methadone

 
The substances below can be tested for if the worker's behavior suggests 
Inhalants (glue, paint)

  

 

Prescription drugs (oxycodone, Vicodin)

  

 

Hallucinogens such as magic mushrooms, peyote, and LSD

  

 

 
Some of these substances can be detected by a drug test only after a limited amount of time following use. But others are detectable even months following last usage depending on the type of test.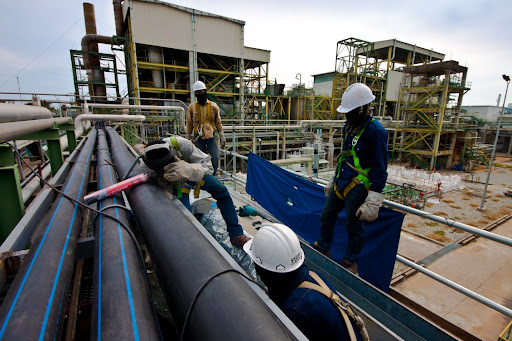 When Employers Require Drug Tests?
Pre-employment    
Random   
Post-Accident   
For Cause- If a supervisor suspects drug use   
Pre-employment Drug Testing
Pre-employment drug testing is conducted by employers who want to know if an applicant is a user of illegal drugs before hiring. Drug use is a major issue in the workplace, and employers want to make sure that they don't hire a potential addict or someone who would endanger other employees.   The pre Employment drug test is a test you can study for and it is a bad sign if a worker has a positive pre-employment test. 
Random Testing 
Random testing is not to catch a person using drugs, but to discourage the use of drugs.  A worker who knows they may be drug tested at any time will generally not use drugs.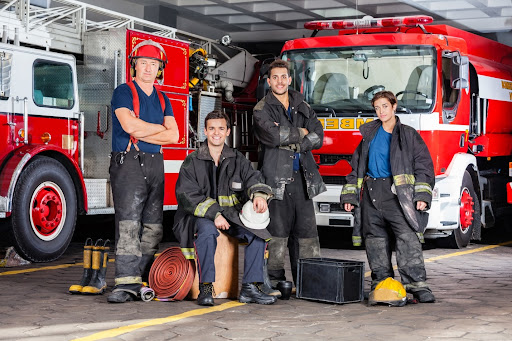 Post-accident Drug Testing
Post-accident drug testing is conducted an employee has been involved in an accident at work and there is the possibility of substance abuse. Employers want to ensure that their employees were not under the influence when the accident occurred. If a worker has a positive drug test after an accident, the required workman's compensation insurance may not cover the worker, and the company may be held liable for the accident the worker caused.   
For Cause Testing 
If the employee has come to the attention of a supervisor because of observable behavior or work performance that indicates drug or alcohol use, the supervisor should document his observations in writing and have the worker taken for a probable cause test.  Safety is the chief concern.  If the worker does not have the substance, other reasons for the change in performance should be considered such as his health, does the worker has a brain tumor, diabetes, or social stresses such as problems at home that interfere with sleep.  
How to Prepare

For

an Employee Drug Test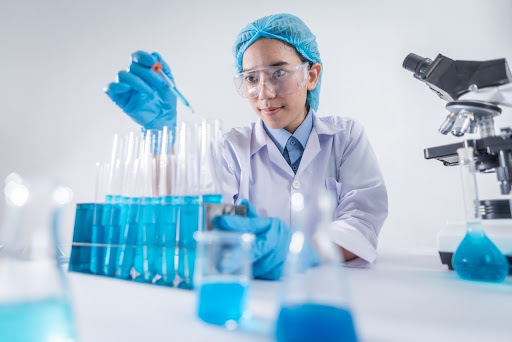 One of the most critical steps in preparing for a drug test is to stop using drugs or alcohol at least two weeks before the test. The best way to do this is to get support from friends, family, and other people who are not using drugs such as a 12 step program as AA Alcoholic Anonymous,  Marijuana Anonymous, Cocaine Anonymous, Narcotics Anonymous.  
If you have an addiction alcohol anonymous, cocaine anonymous, narcotics anonymous are free programs that offer tremendous support.   Then test yourself with a drug test from the drug store or drug testing service so that you know you are clean before you present for a Pre-Employment Test. 
What Happens After a Positive Drug Test Result?

 
The consequence of a positive drug test result is that they are taken off the safety-sensitive position.  In the case of a US Department of Transportation worker, the worker must be referred to a Substance Abuse Professional, who is trained to evaluate the worker for the extent of the problem and who then referrers the worker to an organization for assistance.  The referral to the Substance Abuse Professional begins the Return to Duty Process.  The worker then returns to the Substance Abuse Professional with evidence of his completing the referral process and the Substance Abuse Professional can then write a Return to Duty letter for the worker.  This return to duty letter and a clean observed drug test or breath alcohol test allows the worker to reenter the workplace to do his covered job.  The person may not be hired until the worker has completed the return to Duty process and had a negative observed Return to Duty Drug Test or Alcohol Test 
In the case of a non-DOT covered worker, the employer will take the worker off the covered job.  The worker can go through a company return to duty process or the worker can be fired.   
Conclusions

 
Drug testing in the workplace can give workers a heads up that drug use has to stop or working at this company has to stop.  But if the worker wants to work the worker must not use drugs until the body has excreted the drugs and the worker will pass a drug test. The worker may test himself with a test purchased at the drug store to know when the worker will pass the Employment Tests.   Safe and responsible workers are what the company wants. 
Nevertheless, the most common type of drug test is urinalysis. This is because it's the least invasive and easy to conduct. Saliva Testing is even easier and will soon be approved by the United States Department of Transportation for the transportation industry. If you have any questions about a given Dot drug test, it's always better to seek clarification beforehand.